Are you looking for an ideal venue for your seminars?
Organise your seminars and business meetings near the city centre of Laval at the Petit Perier, but far from any noise pollution. Discover the range of services in a 3-star hotel, and organise your seminars and business events at the Petit Perier!
We have a seminar room for your events that can accommodate up to 160 people in a theatre setting.
Latest generation equipment:
Video projector with connected screen.
85-inch television.
High performance Wifi terminals.
Paperboard.
…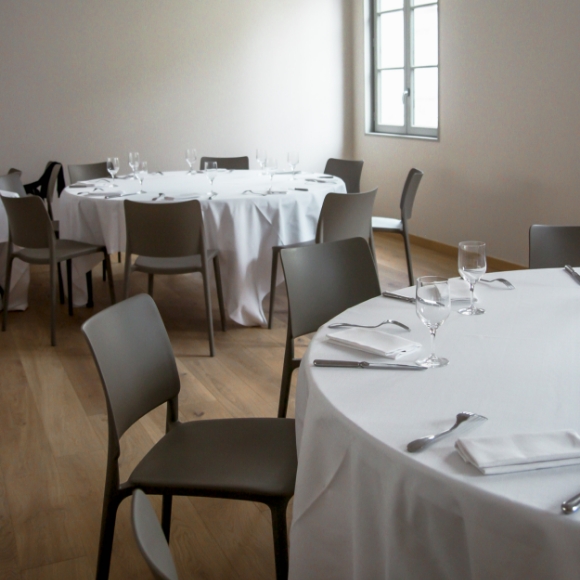 At Petit Perier
We take care of all your business events
But apart from seminars, it is also important to get your colleagues and staff to bond with each other. They need to be able to meet and get to know each other, sometimes outside of work. This is what we call team building trips!
Organise all your team building seminars at the hotel Le Petit Perier. You can book the "La Verrière" room for the day's activities, and go to the hotel's restaurant in the evening for dinner in a pleasant setting.
Would you like a gastronomic meal to punctuate your team building? Go to L'Épicurien, the restaurant of the 4-star hotel Le Perier du Bignon.
You can even access the spa and the relaxation area at a special rate for any stay at Le Petit Perier. Relaxation, outings and activities are on the agenda during your team building seminars at the Petit Perier, in the centre of Laval.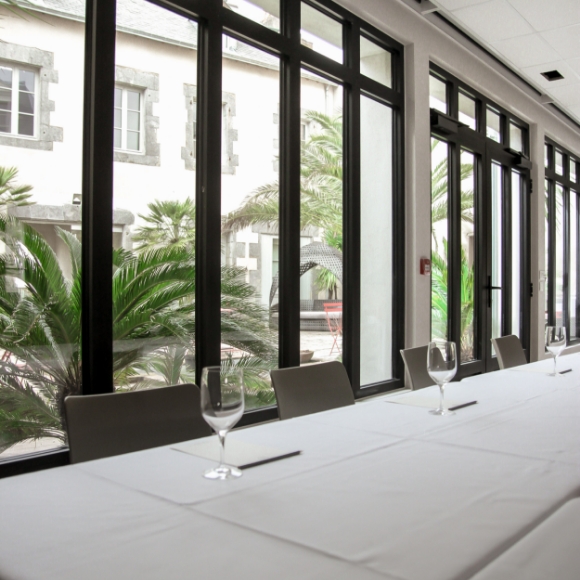 More than just a hotel
Organise your business seminars at Le Petit Perier
Much more than a simple hotel, the Petit Perier is a haven of peace located in the centre of Laval. It is a place where guests come to recharge their batteries. And sometimes even to concentrate!
For unforgettable seminars, book our seminar room "La Verrière", which lives up to its name. It is a large room designed to host professional events.
All along the room there are brightly lit windows. This gives you an unobstructed view of the Petit Perier winter garden. The decoration is zen, the light is intense without being blinding, and there is no noise pollution: it is the ideal room to stimulate the productivity of your employees.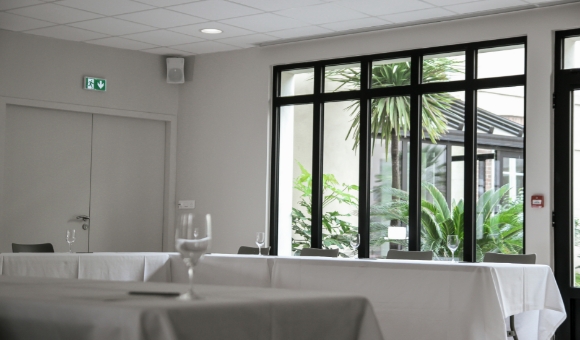 Share a good meal
A day punctuated by moments of relaxation
Whether you are organising professional conferences or fun team building activities, you should always have something to eat! Le Petit Perier offers gourmet menus from €18.
Breakfast, lunch and dinner can be held on site, not far from your seminar room. You can also explore the restaurants in the city centre of Laval, or take a culinary trip to the gastronomic restaurant Le Perier du Bignon.
There's nothing like quality food to make your business events a pleasant experience.
Productivity and relaxation at the Petit Perier
In your 3-star hotel le Petit Perier, you can organise all your professional events. Seminars, team building, conferences or meetings take place in ideal conditions in the centre of Laval.
Enjoy an unforgettable stay with activities, meetings and meals chosen by you. Everything you need can be found at Le Petit Perier!